The majority of Ukrainian children were forced to flee their homeland due to the armed conflict in Ukraine. Even after months many of them still require immediate humanitarian support, experience post‐traumatic stress caused by the war, need access to basic services, have a language barrier and some of them are even in need of regular psycho-social support.
Currently, more than 1000 children from Ukraine reside in Georgia and try to adapt to a new environment and life, among them are Natasha, Anya and Danilo, who live in Gori Municipality. World Vision Georgia learned about the two refugee families in Gori Municipality from the partner local NGO and decided to visit them to assess their needs and ensure that children affected by the war have access to education and are smoothly integrating into the host community.
Since February 2022, World Vision Georgia has provided diverse support to the families and children displaced by the war, among them are the Ukrainian families living in Gori. Through utilizing winterization vouchers distributed by WVG, parents could prepare for the upcoming cold season, buy winter clothes and keep their children warm. Like other refugees, these families also received multipurpose cash assistance that helped them to satisfy their basic needs. Besides, children were given various educational kits to assist them in their study process in a foreign country.
During the visit, the children were extremely pleased by the gifts received from WV Georgia and shared their thoughts about their life in Georgia. Natasha is 8 years old young girl who studies in the second grade at the public school in Gori. She moved from Kharkiv to Georgia with her family in March. It is noteworthy, that there is no Ukrainian Sector at the local school in Gori, however, children still manage to study and communicate with their classmates.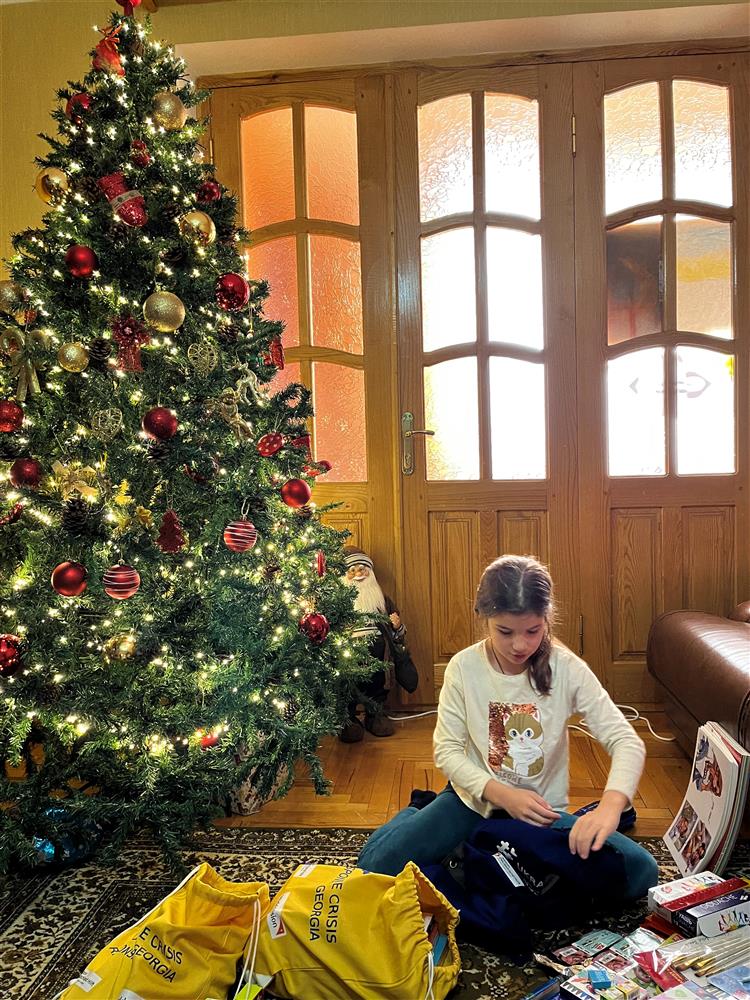 "I was warmly accepted at school and received many gifts. I have made friends at the new school, we played a lot in the yard during the summer holidays. I like my classmates and teachers, they are all kind to me," she said.
Her mother Elena is 38 years old and used to teach at the University in Ukraine before moving to Georgia.
"In the beginning, it was hard to integrate into a new environment. I felt stressed and nervous as we did not arrive here by our own will, but were forced to leave our country. However, after a few months, we got used to the new home and now we feel much better. My daughter goes to a local school and she can already understand the language; sometimes she even translates some words for me. I'm glad that Natasha was warmly welcomed at school, she easily managed to find a common language with other pupils and make new friends", Elena told us.
Despite all this, she still wishes the war could be over soon and they could go back to Ukraine. "For New Year my daughter wished tickets to Kharkiv for the whole family", she added smiling.
Another family that WVG supported went through a long journey and now lives in Gori. Before the war, Anya and Danilo lived away from their mother in Mykolaiv, Ukraine. Sister and brother had to pass through a long and hard road to see their mother again. The mother of the children Svetlana is 28 years old. Before she used to work at a kindergarten in Mykolaiv, Ukraine. Currently, she is unemployed but tries to support her children in their learning process. Svetlana managed to find a private tutor who teaches the Georgian language to her children. As she says, children have private lessons three times per week and she is satisfied with their results.

"Now they know all the letters and can read little by little. They also got used to the new school and attend classes every day", she noted.
The mother was grateful for the presents and educational kits her children received from WVG. According to her, these school supplies will help her children in their studies. Daughter Anya is twelve years old and attends seventh grade. She is very active, knows all children in her neighborhood, and often spends time with them.
"I like my school, I have good friends here. I try to talk with them in Georgian, I have already learned some words and can read as well. When I celebrated my birthday here, I invited my classmates; we had a good time."
Her brother Danilo is nine years old and studies in the fourth grade, in the same public school.
"I enjoy playing football, basketball, volleyball, and other games with my new friends. I can also read in the Georgian language, recently we had an exam in math and it was easy for me to understand and solve the tasks. I always do my homework," he said.
World Vision Georgia has been supporting Ukrainian refugees from the very beginning of the crisis with the financial support of the Aktion Deutschland Hilft (ADH), providing direct humanitarian assistance to arriving families affected by the crisis in Ukraine. WVG regularly informs and enhances access of vulnerable people to basic services - education, health care, social, and psycho-social support as well as employment opportunities. Up to the present, more than 4000 Ukrainian citizens with more than 1000 children have benefited from various types of support. Through its programs, World Vision Georgia strives to create a safe and friendly environment for children that is inclusive, tolerant, and provides equal opportunities for all.